Stories of Love, Experience, & Adoption
When All My Ducks Are In a Row
When All My Ducks Are In a Row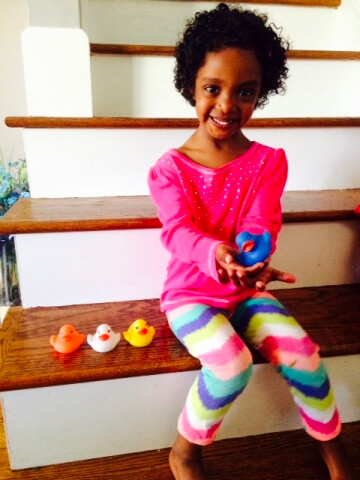 Our three year old daughter, Ru, is all about her new little rubber duckies she got for Easter. Ru has been carrying her new little friends around with her pretty much everywhere she goes. I must admit, I think it is quite humorous to find a stranded duck lying around in an unexpected place.
Learning from Rubber Duckies
The past few nights, Ru has been up to some nighttime antics after she goes to bed. She has been getting out of bed, playing with some toys, and wondering around the hall. Last night, I walked up the steps to check on Ru and found all the little rubber duckies lined up in the hall. Yes, the colorful duckies were cute, but I found much more meaning in this sweet and comical display my daughter created. There are so many things in life that I put off or avoid because my "ducks were not in a row." I like to wait until I am not a mess, or when things look pretty on the outside. Time after time, I don't give God enough credit to make pretty out of my mess.
We Were a Mess and It Was Ok
When my husband and I adopted, our ducks were not in a row. Our finances were not where we wanted them to be, Stephen had just opened up a new law practice, and I felt like I was just getting my feet stable after some difficult personal struggles.
As I looked at those lined up duckies in the hall last night, I stopped and said, "Thank you, Jesus, for not waiting until my ducks were in a row." If He had waited for me, I would never have experienced the joy that surrounds me. So, if you have thought about adoption, please don't wait until your ducks are in a row – you may miss the wonder He has in store for you.